Player ID: Cizin
Character name: Skrokar the Defiler (The Defiler is simply a title, gained from his general depravity)
Race: Graklorian
Age: 43,963 as of Zero mission
Gender: Male, presumably.
Height: 12'6 when standing in the most upright position he can manage, typically stands at 9'4 and a 1/2.
Weight: 600 pounds
Appearance: Skrokar is a very spindly creature, and it would be fair to say that his kind is emaciated by the standards of most. He has bluish-gray skin with a smooth and slimy texture and walks in a very pronounced digitrade stance, which is to say he walks on his toes much like a bird. He always wears a rust-red colored "vest" made out of a unknown alloy that is considerably stronger than phaazite. His head is held in a hunchback position well below his shoulder blades, which are pointed upwards. His head curves like the tail of a comma from his shoulders, and his face is far from pleasant to look at; three eyes dot each side of his mouthless head, all of them glowing fiercely yellow, the centermost eyes are by far the largest however, and if one looks closely at the top of his head, one would see another pair of small glowing eyes.
On the flanks of his "chin" are three tentacles on each side; which all curve forward, here the centermost tentacle is the shortest, while the outer two are the longest. His arms end in wicked claws covered in the same rust red alloy as his torso, capable of carving through most materials with minimal resistance. The two toes on each of his feet are curved in such a way that he is always walking on the "knuckles" of the toe, which strongly points to his Species having developed in some form of environment where holding onto something was more important than walking. In bet When he flies; two extensions shaped much like safety pins emerge from his back, apparently working like turbofans.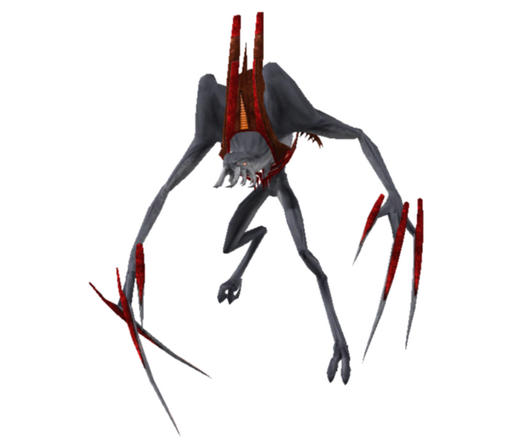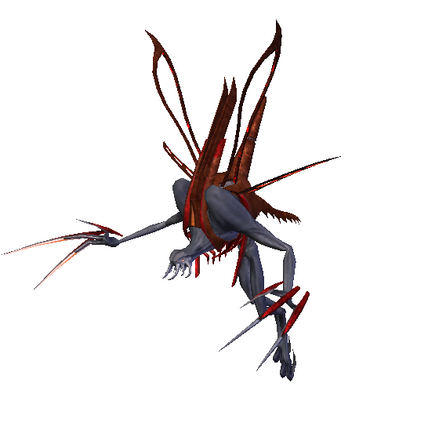 flight-mode.
Known Languages: All earth languages alive or not, Hierarch, Graklorian, Space Pirate, Space Dragon, Chozo, Luminoth, Alimbic, Vik'kri'xik, Bryyonian, Vhozon, Kriken, Diamont, Phygrisian, Ki-hunter,.
Faction/Organization: Currently the Space Pirates, Formerly the Hierarchy, Formerly the Graklorians.
Alignment: Neutral Evil
Personality: Skrokar is a sadist, taking immense pleasure and satisfaction in the pain and deaths of others, he is not only willing to commit deeds widely recognized as wrong, but often goes out of his way to do those deeds for the simple fact that they are considered Immoral, he is deceitful, treachorous, ambitious, cunning and loathsome; this being taken to an extreme when he sold out his own homeworld to the Hierarchy in exchange for a position of power within them. In addition he is incredibly patient, most likely due to his extraordinarily long lifespan. He loves to hunt his fellow Sapients for sport, and preys on those weaker than he is. He loves to turn friends, lovers, comrades in arms, colleagues, and family against each other, in his twisted mind; few things are more enjoyable than the sight of two formerly inseparable friends or lovers at each others' throats. In spite of his long life span, or perhaps because of it; Skrokar is extremely fearful of death, and will flee to lick his wounds if he feels his life is in serious danger.
Strengths: Can Phase through solid matter much like a Chozo Ghost or Hunter Ing, Flight, Very Strong, Durable (equivalent, Regeneration (heals the equivalent of two energy points a second), Combat Experience, Speed, Agility, Armor, Psionic powers (primarily meant to attack an opponent's psyche, though he is very skilled in telekinesis), Terrifyingly effective at hand to hand combat, powerful at short to medium range, Intelligent, expert with machines, complete knowledge of the anatomies and weak points of virtually ever sapient species and dangerous animal or machine that has been active within the last thirty three thousand years, expert climber, wall crawler, master of interrogation, master of stealth, amphibious, very good swimmer, can survive in a vacuum.
Weaknesses: Somewhat cowardly, will flee if life is in immediate peril, Long Range Combat, easily knocked around due to being extremely lightly built for a creature of his height, Unstable footing due to his unique walking posture, areas too small for him to maneuver.
Likes/Dislikes:
Likes: Killing, Torture (of others), inflicting pain, turning allies against one another, committing atrocities, war, treachery, power.
Dislikes: Peacetime, Camaraderie, Commanding ground troops.
Other:
Equipment: Plasma Chain gun, Hierarchy alloy vest, hierarchy alloy coated claws.
Character History: Skrokar was born in the rather distant past on the planet Groklar, a planet full of sadists, genocidal tyrants, murderers, and was universally agreed upon by the Chozo, Luminoth, Alimbics, Bryyonians, the N'kren, the Vhozon, the Diamonts, and the Ylla as the most evil place in the universe. Many of them sold their services to both sides in the great universal war fought between the Xik'kri'vik dominion and the Chozo and their allies, and Skrokar was one of the most famous mercenaries; carving a swathe through both sides in the two thousand year long war, and it is reported that he was somewhat depressed when the war finally came to a close.
Roughly 25,000 years before Samus's Zero mission the dominant species in Chozo space at the time, simply referred to as the Hierarchy; who greatly resemble the Grays of the pulp fiction tales of the late second and very early third millenium, came to Groklar with the intention to harvest it. Skrokar sold out his homeworld in exchange for a position of power in the Hierarchy command structure, and travelled across the universe, helping them harvest world after world, consuming entire galaxies. During the year 2014 A.D in the twenty first century, Skrokar and a Hierarchy harvesting fleet came to the planet Earth and initially devastated the unprepared and primitive defenses of the planet, holding off the typical sterilization of a would-be harvested world to allow the Vhozon and the Diamonts, ancient enemies of the Hierarchy to rush to the aid of the Earth to draw them into an ambush.
After seemingly crushing the Diamont-Vhozon intervention force, the Hierarchy marched unupposed until the Chozo, Alimbics, Luminoth, had decided that it had finally tired of the actions of the Hierarchy. Though the Hierarchy was at the time; the most powerful species in the Universe and at first enjoyed great success against the intervening forces, their death knell came when the Chief of Security in the Hierarchy Fleet Rebelled as he finally tired of seeing world after world be destroyed at the cost of innumerable Hierarch lives. Though this rebellion was crushed by the Underseer of the operation and made Skrokar the commander of the armed forces; it weakened the Hierarchy position enough to allow for their defeat by the Three.
It is generally agreed that the Hierarchy technology left over from their earth invasion is what allowed Humanity to rapidly achieve faster than light travel and practical spaceship design; and within a few decades, Humanity had fully recovered and began to spread across the stars as the Chozo, Alimbics, Diamonts, Vhozon, and Luminoth continued to roll the Hierarchy all the way back to their supercluster and it's immediately adjacent superclusters and forced them to sign a crippling peace treaty.
Skrokar left the Hierarchy a good deal before their final defeat; sensing that the cause was lost, abandoning them when they needed him most. The years rolled by, and the universal scene changed greatly. The various earth-based countries of humanity carved large intergalactic empires through colonization over time while the Higher Races began to recede from the Galactic scene. But whenever a war needed to be fought; Skrokar was there.
But to Skrokar's and everyone else's shock, the Alimbics mysteriously vanished; their galaxy spanning empire disappearing over night and a huge number of wars sprung up as warlords carved up small territories from the corpse of the Alimbic Empire; causing a catastrophic amount of Chaos and violence; starting the second great cosmic dark age. The Bryyonian civilization collapsed into Civil war as the tensions between the Primals and Lords of Science reached a critical level; adding more fuel into the flames of the Dark age. The Vhozon society became increasingly more brutal and less Altruistic in response to the decay of Universal civilization, their kind becoming ever more violent and zealous in their pursuit of justice; which they blamed on rampant immorality. As if to make things worse; the Kriken Empire and the Space Pirate Confederacy established themselves as great powers; causing more and more rampant death and destruction. And to Skrokar; this was absolute paradise, three thousand years of madness, chaos and constant war.
Worried about their ability to deal with a hypothetical resurgent Hierarchy and the Chaos and strife that consumed their stretch of the universe; the Chozo, Ylla, Luminoth, Diamonts, and N'kren convened with several other species to form the Galactic Federation, choosing the planet Daiban as the capital of this new organization, but these five species also unanimously agreed to stay out of the affairs of the lower races as much as possible out of a desire for pacifism and in the light of their declining reproduction rate. Soon, humanity would join the Galactic Federation and begin the Third Cosmic Golden age; which was an era marked by peace, prosperity, stability, and in the mind of Skrokar; mind numbing boredom.
About Three thousand years before Zero Mission; Skrokar soon sought out Urtraghus, the home of the most "civilized" species in the Space Pirate confederacy, as he found the Zebesians to be too feral and unsophisticated in their pursuit of murder for his tastes, the Ki-hunters as being too unintelligent, and the others as not being noteworthy enough. Space Pirate high Command accepted him into the fold and made him an enforcer; equal to the Zebesian Space Dragon Ridley without a second thought; though Skrokar preferred doing his work without his minions.
Roughly a thousand years before zero mission; Skrokar was sent to the homeworld of Kraid, and assisted the warlord defeat his foes by providing his world, which was currently in the Industrial Age, with advanced Space Pirate technology in exchange for Kraid joining the Space Pirate confederacy as an enforcer of High Command.
For the next Thousand years, Skrokar, Kraid, Ridley, and the other enforcers of High command scourged the galaxy; plunging it into the Third Cosmic Dark age which continues to this day. When Ridley razed the Colony world of K-2L; Skrokar was reported to have said,
"Should have invited me along for the party."
He avoided being enslaved by the Mother Brain when she sided with the Space Pirates who raided Zebes; who temporarily upsurped High Command's Authority over the Zebesians and the enforcers Kraid and Ridley; telling the Chozo built artifical intelligence to
"Go rot in a ditch, jarhead."
when she attempted to mind control him and remained loyal to Urtraghian High command. When Mother Brain unleashed the metroids, he found the creatures to be a curious oddity, and recognized the potential they had, but he ultimately regarded them as no real substitute for the Space Pirate Enforcers.
Soon after the pirate's defeat at Zebes during Samus's Zero Mission; Skrokar learned of the Xik'kri'vik's assault against the Omega-39 Plural XX sector and took a space pirate fleet with him to fight in the campaign purely for the thrill of fighting the Xik'kri'vik once again after twenty nine thousand years. He managed to lead his fleet to several victories over isolated elements of the extermination fleet; though he soon pulled back to pirate space with several examples of the Xik'kri'vik's technology once the campaign ended in defeat for the Federation.
He is currently accompanying a Ridley Clone in an course that will intercept Zyq'kri'vix's Fleet which itself is en route to the Omega 39 plural XX refugee fleet and it's escorts.
Weaponry: Armored Claws, Plasma Chain-gun, Psionic assaults.
Shielding: Reduces all incoming damage by half
Alt Form Name: Phase shift/flight
Description: Skrokar is capable of phase shifting; shunting him into a coexistant dimension, this allows him to pass through solid matter as if it weren't there; though he can't attack when totally phase shifted. His flight form allows him to of course, fly, whether in an atmosphere or in the vacuum of space; it doesn't matter.
Ship Name: The Devourer of hope
Ship Type: Space Pirate Dreadnought (Ridley's Zero mission ship, but painted Rust Red instead of purple)
Weapon Systems: Frontal Anti-matter bottle cannon, many anti-fightercraft laser and blaster cannons and particle and laser beam emitters, many anti-capitol ship plasma cannons, turbo lasers and beam emitters, EMP cannons of varying sizes, missile/torpedo tubes
Attachments: Tractor Beams, Hyperspace, Shields, Communication relays, Sensor Relays.
Registered to the Name of: Skrokar.
He is not registered as a boss because it is incredibly rare for him to actually command his troops since he finds commanding ground soldiers to be an incredibly tedious task; he prefers to leave that task to the other Enforcer he is always paired with; in this case a clone of Ridley and any officers that are nominally under his command.